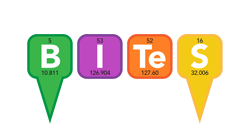 Please join us for SLiThEr #21 "Teaching During COVID-19: A Catalyst for Positive Instructional Change" on Thursday, June 24th at 3 pm EDT! VIPEr Fellows Meghan Porter and Matt Cranswick will be discussing what instructional changes they implemented during the pandemic and what changes they are keeping.
Team SLiThEr has been busy putting together a schedule for our summer SLiThEr series. While some of the fine details still need to be worked out, we wanted to give you some insight into what you have to look forward to.
6/10 @ 3pm eastern - Sibrina Collins will present on her new ACS Symposium Series book - African American Chemists: Academia, Industry, and Social Entrepreneurship
Week of 6/21 - Meghan Porter and Matt Cranswick will be discussing what we have learned from the pandemic and what we will be keeping as we move forward (like SLiThErs!!!!)
Just a reminder that you can still sign up for our 19th and final SLiThEr of spring 2021. The topic will be getting a position at a PUI. You can sign up here. 
Team SLiThEr will be meeting next week to come up with a schedule for the summer. If you have topics you would like addressed, of if you have a topic you would like to present, please reach out to any member of Team SLiThEr.